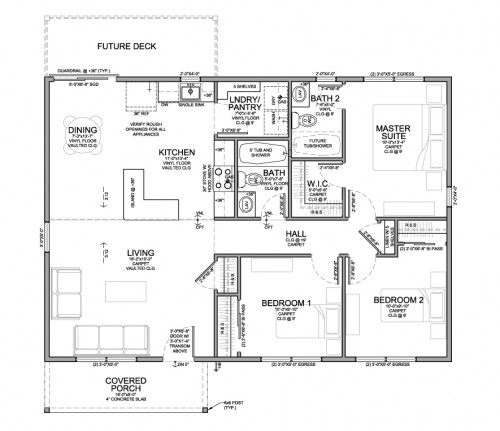 We recently designed a single-family ranch house for Blue Spruce Habitat for Humanity.  We came up with the most practical layout for the 3-bedroom/2 bath house, while keeping it within the 1,050 sf requirement.
We left the option for the Master Bath to be finished with a future shower/tub combo, since the Habitat design criteria only allows for 1 full bath for a 3-bedroom house.  We also provided a sliding glass door in the dining room for access to a future rear deck.  We vaulted the living/kitchen area to create a more open feel.  The rest of the house has 9′ ceilings, a little more generous than the typical 8′.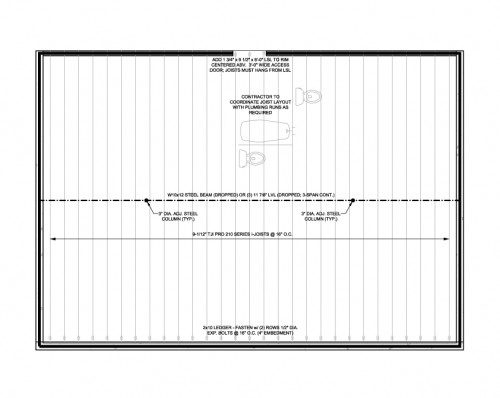 The site slopes 5' from front to back, creating a semi-walkout condition which allows for access to the crawlspace through a small door at the rear of the house.  The mechanical equipment will be placed in the crawlspace to provide more space on the main level.  Originally, there would've only been enough room for a 3' tall access door into the crawlspace, but we pushed the door header up into the floor rim space so that we could fit in a 3'-6" tall door.  Due to the home's small size and simple rectangular layout, we were also able to downsize the floor joists from 11-7/8" to 9-1/2" TJIs for cost effectiveness.  We also provided Habitat with two options for the dropped beam below, one steel and one wood, to allow them to price both.