Here at EVstudio we use a number of different software packages to design and document our work. Our documentation may be done in AutoCAD, Revit or Bently BIM. Our design work is sometimes quickly completed in SketchUp. I even used it to fully document some requirements for a local HOA. It is was very easy to produce 3D images that where approachable by the various homeowners.
Our structural department often uses Bentley products including: Elements, Concept and Connections. They also use TJIBeam, StruCalc, Enercalc, PTISlab and a variety of custom spreadsheets.
Below are two stair schemes I put together in SketchUp along with a top view showing the unique tread pattern. This stair is in a location that is already built and has some very restrictive geometry. As a result we were forced to get very creative with the stair treads. The treads look straight forward in plan view.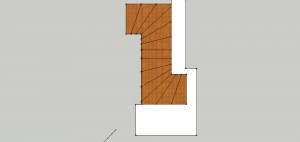 In perspective we can see more of the unique character of each of the individual treads.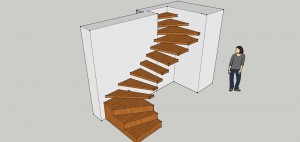 Since the main wall that the stairs will attach to is already existing and has plumbing in it, we designed a couple schemes. The two shown here are the most and least invasive that we arrived at.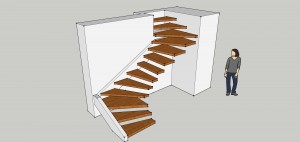 The great thing about using SketchUp for this stair layout is that I was able to quickly create it in plan then start to orbit around and refine the exact geometry of each tread. Each scheme took at most 10 minutes to create. This software is also a great tool to use with clients. It is simple enough that geometry can be re-worked on the fly and the model can be placed on GoogleEarth for the owner to get a better idea of views and overall siting.
Yes, most of those treads are, in fact, cantilevered.