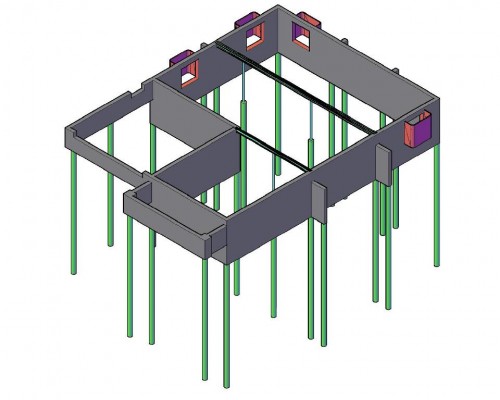 When the soil is unstable and does not allow for a typical spread footing foundation a deep foundation that bears on stable soil below is needed.  A deep foundation supports the structure by bearing on stable soil below the unstable soil.  It may be helpful to think of a house above water supported by columns.  The water represents the unstable soil and the columns bypass the water and bear on the stable soil below the water.  Some of the earliest deep foundations were built the same way.  The Aztecs built walkways over water by hammering logs into the bottom of the lake bed.  This is a typical driven pile foundation, but the same principal applies.
There are many different types of deep foundations.  In this post I will focus on Straight Shaft Drilled Concrete Piers.  But other deep foundation systems include, wood or steel piles, helical piers, caissons and screw piles.
Straight Shaft Drilled Concrete Piers are constructed by drilling a hole into the ground and filling it with concrete and reinforcing.  The diameter of the pier varies depending on the load the pier must support.  A 10" to 12" diameter is typical for light loads in residential.  Typically, a pump truck with a long tube is used to place the concrete directly at the bottom of the hole to displace any water.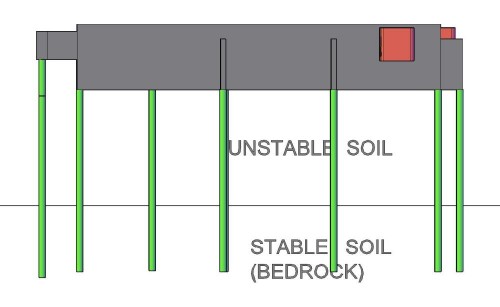 The reinforcing is needed to provide a tensile strength for the pier to resist uplift and moment forces.  For small residential piers three to four vertical bars are placed the entire length of the pier.  As the loads become larger, a cage of steel may be needed in addition to the full length vertical bars.
Drilled concrete piers must be designed to support the applied loads from the structure and the forces from the unstable soil.  First, the applied load from the structure is transferred into the pier and the load is distributed into the bearing soil through skin friction and end bearing.  With unstable swelling soil an uplift force may be applied to the pier as the soil swells pushing in on the pier.  I like to describe this action similar to the water snake or water tube toys.  When you squeeze the toy it slips out of your hand.  Obviously, concrete doesn't behave like water, but when the soil pushes in on the concrete pier the soil pushes to concrete pier up and out of the ground.  So the pier must extend deep enough into stable soil to resist this force, therefore, creating a tensile force between the stable and unstable soil layers.
The design of deep foundations can get very complex and the design allows for very little forgiveness if done incorrectly.  Unfortunately, this has caused many geotechnical and structural engineers to over-engineer drilled piers.
PROS
Minimal labor
Bypasses unstable soil
CONS
Expensive
Subject to failure if incorrectly designed
Does not address basement floor, so an elevated structural floor is typically needed