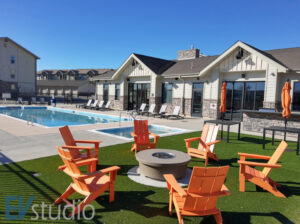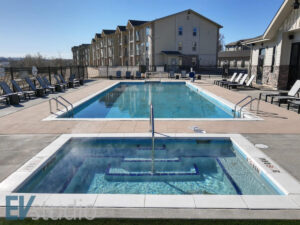 The need for housing in Colorado remains high and EVstudio continues to provide architecture and engineering design services for a multitude of housing projects along the Front Range helping fill this need. EVstudio provides design services for residential projects including custom homes, production single family and paired townhomes and multifamily projects. These multifamily projects consist of townhomes and small apartment developments to large, multi-building apartment campuses.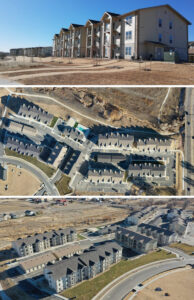 One of the large multi-building apartment development projects that EV Studio had an opportunity to work on has recently completed construction. This is the Ten West Project located in Greeley, Colorado. EVstudio would like to congratulate, Saunders Commercial Development Company, LLC (https://www.saundersinc.com/services/) in the successful completion and occupancy of the modern, amenity-rich project.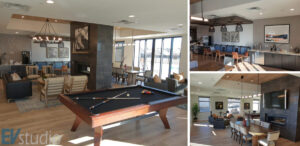 "Ten West" consists of 264 garden-style units in eight buildings, a clubhouse and multiple garage buildings. The units are currently available for new tenants but filling quickly. Brisk leasing of the units confirms the need for apartments in the Greeley market. Echelon Property Group (https://www.echelonrents.com/ten-west-greeley-co/) manages the property, including the pool, outdoor barbecue and fire pit, dog park, fitness center, community center and other amenities.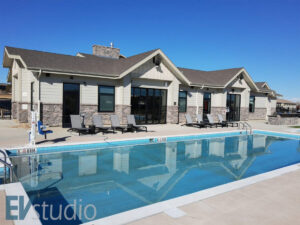 EVstudio provided architectural and landscape design services on the Ten West project, as well as civil, structural, mechanical, plumbing and electrical engineering design. Providing all disciplines in house allows EVstudio to provide creative design solutions with well-coordinated documents. This allows our team to obtain scheduled targets and deadlines while meeting budget needs.  EVstudio currently has over 1,500 apartment units in design or construction and has additional capacity to provide design services for a variety of project types. Contact EVstudio today to discuss your project needs!
For more on this project please see the following link; https://evstudio.com/creative-colorado-housing-solutions/