Nestled in a mountain valley on Colorado Hwy 9, alongside the snaking South Platte River, sits Buffalo Peaks Ranch. Until 2015, the ranch sat dormant for nearly twenty years. The ranch is everything you could hope for in a perfectly-aged, history-drenched mountain property — it embodies all the magic of nature, broken down barns, sunny front porches, and handmade furniture.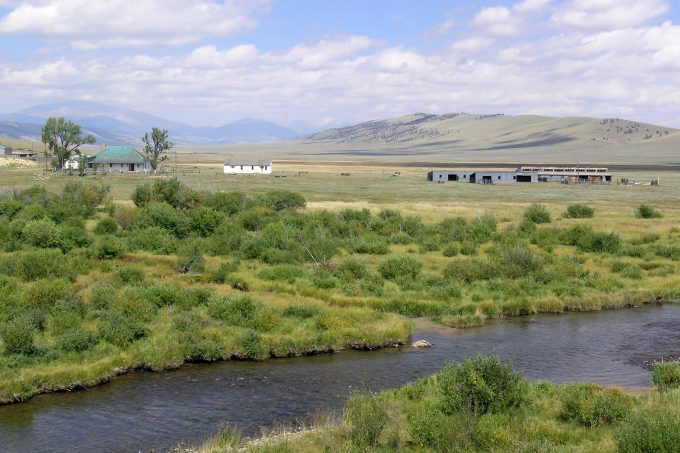 The only thing missing from this picture, if you ask me, is a good book — but the ranch now has that covered, multiplied by about 30,000. Jeff Lee and Ann Marie Martin of the Tattered Cover Book Store, based in Denver, are restoring Buffalo Peaks Ranch as a residential library and calling it the Rocky Mountain Land Library (RMLL). The library will be filled with their personal collection of over 30,000 volumes on Western nature and land. As a residential library, this would be a place where people could stay, rent a room, and immerse themselves in these books and the surrounding landscape. The Land Library would provide an inspiring atmosphere for individuals such as writers or artists, or for hosting events ranging from art workshops to faculty retreats to outdoor concerts.
Over the past couple of years, UCDenver Architecture students have contributed their visions on how the different ranch buildings could be transformed for the purposes of a library; last year, HistoriCorps volunteers worked on getting the library back into habitable shape. With the help of all kinds of folks, the Land Library is making slow but sure progress. Events are already scheduled for the summer of 2016, and the Land Library is hoping to attract further funding to complete larger components of their project.
For more detailed information on the Rocky Mountain Land Library and its progress, please visit their website. The online journal of RMLL, Garo, publishes short stories, artwork, essays, interviews, poetry and other works that connect people to the land and each other.