On most projects where there is enough room for access on both side of a foundation wall, waterproofing is often applied after the concrete foundation wall has already been poured.
Sprayed Membranes
Projects with occupied spaces below grade and underground parking structures require waterproofing systems that have to be absolutely reliable.  A complex system of shoring with rakers and tiebacks support lagging walls that will support a dimpled sheet drain.  Often these tiebacks create irregular shapes that waterproofing will have to be detailed and sealed properly.  Some projects require the wall to be very durable and are constructed of shotcrete that is directly applied to the membrane with protection layer.  Most waterbased spray-applied membranes require a uniform coat of 100 mils.  This is applied typically in three passes.  It is recommended that a log be kept by the waterproofing contractor using a mil-guage that is placed into the membrane.  When the depth of the membrane reaches the height of the 100 mil groove in the gauge, then the thickness of the material is met.  Dimples in the drain mat, installed vertically help create the mechanical bond between the concrete and helps ensure that there will be no delamination between the membrane and the concrete.  The key to a good blindside application is to detail around soil retention system.  The waterproofing contractor must provide membrane patches and provide liquid around tiebacks.
Plastic Sheets
Plastic sheets that are around a quarter inch thick have two layers of 60 mil bitumen waterproofing membrane that is reinforced.  It is bonded to a mesh of nylon fibers that embed into the concrete as it is installed.  Separately, a drainage mat will be installed between the lagged wall and the waterproofing memberane.  There are many different products that have a proven track record in underground waterproofing.  Spray-applied and plastic sheets are more recent.
Blindside Waterproofing
On one of EVstudio's multifamily projects, because of the proximity to the property line, blindside waterproofing had to be installed.  Typical projects include "zero lot line" tunnels, foundation walls and high density build-up areas. In blindside waterproofing, waterproofing membranes are installed prior to the concrete wall being poured.  The installation is more complex than standard waterproofing installation because the installation is done in reverse order of the standard installation.
For information on the Blindside Waterproofing used on EVstudio's Multi-Family Project, please see:
http://www.eproserv.com/buildingsystems.php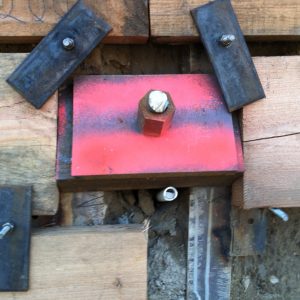 Shoring and Tieback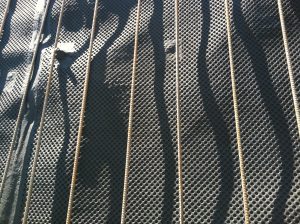 Tie-Back Patched and Sealed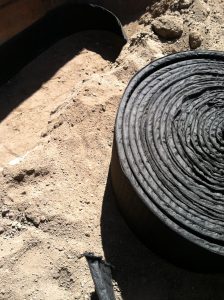 Drainage Mat