In an urban environment, street trees are considered a necessity, but sometimes a nuisance. There are a series of considerations that should be made when incorporating street trees into the urban framework.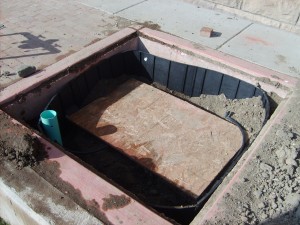 Root Barrier: What is the most common nuisance in our historic neighborhoods in regards to trees? Most people would say that it is with the cracks in sidewalks that are caused by the street trees. In fact, this is a very common problem that has led some municipalities to forbid street trees between the sidewalk and the curb. Everyone knows that street trees provide great shade and ecology to our urban districts and neighborhoods. There is no denying the great relief and enclosure that shade trees provide and the added habitat for birds, etc. The problem is, how do we provide this without jeopardizing our sidewalks? One solution is to utilize trees that have a deeper root system so the roots will not encroach into the sidewalk in time. This can be a difficult task, especially if your landscape architect is not experienced with working with street trees. Another solution is a root barrier.
I like to utilize both proper tree selection and root barriers when designing an urban landscape. Tree selection a crucial aspect, but just in case, I also like to use a root barrier. A commercial root barrier that I recommend is from Century Root Barrier (Century). The panels for the root barrier have an interlocking feature included which eliminate the need for gluing the panels together. You can choose from a variety of products, some that can form right angles for square/rectangular grates and some that are more circular. Both applications have their place. Where there is area to spare, I recommend the circular, continuous panel to limit the risk of joints or openings for the roots to penetrate. The right-angled panels are great to maximize the space available for the rooting of the trees, which can be crucial.
The root barriers are not only good for minimizing the future issues with the sidewalks, but they also assist in keeping the soil for the tree in a non-compacted state. Compaction around the tree can suffocate the tree if proper steps are not taken to minimize the compaction.