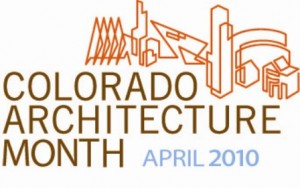 April is Colorado Architecture Month, an annual event hosted by AIA Colorado.  The following are some highlighted events planned for this year.
Delicious Designs is a program in which participating architecture firms work with Colorado restaurants to create a dessert modeled after a unique piece of Colorado Architecture.  The desserts will be served at the restaurants during selected dates throughout the month of April.
Another popular event is Denver Box City for Kids, which gives kids a firsthand experience in the design and construction industry.  This year's Box City will be held on Saturday, April 17th in the Webb Building Atrium.
The 3rd annual 'How to Work with an Architect' workshop will be on Tuesday, April 20th.  This is a great opportunity for those interested in working with an architect and would like some of their questions answered.  EVstudio's Sean O'Hara presented at last year's workshop which was a success.
EVstudio will also be attending the Young Architects Awards Gala on April 9th at the Denver Design Center.  YAAG is an annual program dedicated to honoring talented, young designers in the architectural community.  EVstudio is up for several awards.
One of the biggest attractions during Architecture Month is Doors Open Denver which provides complimentary self-guided and expert tours of buildings throughout the city.
Click here for a full list of 2010 Colorado Architecture Month events.