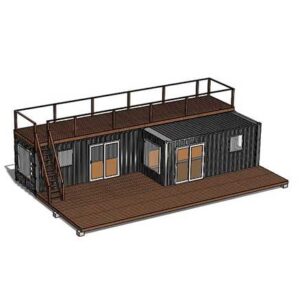 WHY ARE WE TALKING ABOUT SHIPPING CONTAINERS?
Shipping containers are rugged and durable, built to withstand 100+mile per hour winds, huge waves and long journeys on cargo ships. This durable little structure has taken a new life from just transporting goods. For example, what better use for a shipping container than a home?
Shipping container homes have grown increasingly popular. In fact, according to a Guardian report, the storage container homes market is expected to rise by 6.5% between 2019 and 2025. It's easy to see why they have gained such popularity. They are easy to transport and readily available, making it easy to get your hands on one of these eco-friendly, affordable, pre-built shipping containers to create your dream home.
As cities are struggling with affordable housing, shipping container homes have become a popular option because of their convenience and price. In addition, they are so easy to move and place on site with little construction needed in a short time frame. Building out a shipping container is surprisingly affordable depending on which components, systems, and finishes you want in your tiny house. The modular homes are made from steel, making them extra hardy against earthquakes, hurricanes and tornadoes.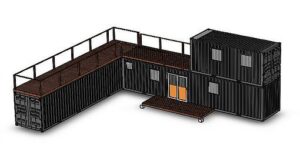 PROS & CONS OF BUILDING WITH A SHIPPING CONTAINER
Why Use Them?
Like anything else, shipping container homes come with their own set of pros and cons. As stated before, they are extremely affordable compared to many other types of homes. They are extremely durable especially for their size. These small structures are made from corrugated steel and make for a great little shelter to endure the elements. If you want to start living in a home right now, a container home may be the perfect fit because they can be move-in ready in 4-10 weeks.
In addition, shipping container homes are environmentally friendly. Millions of shipping containers sit unused all over the world. Many people like the appeal of recycling a shipping container and turning it into a home. Since a shipping container is originally designed for transport these homes are made to be easily moved. Usually, a flat-bed truck can move a shipping container house from one place to another. Finally, because shipping containers are essentially Legos, you can get creative with stacking and placing them side-by-side to create the perfect layout.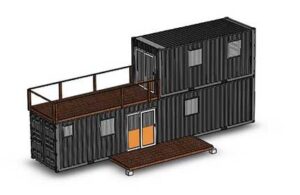 Then Again Maybe Not?
However, there are some cons to these little steel homes. As far as appearance is concerned, there is not a lot you can do to change the overall esthetic. Like the picture above, it is easy to add some curb appeal to with a patio and some railing but other modifications are limited. Another thing to consider is looking into your local building codes. Unfortunately, not everywhere allows for shipping container homes. Do your research to see where you can have them and what you need to do to meet your local guidelines. 
If you're convinced that a shipping container home is exactly what you have been looking for just click "Add To Cart". You can now even buy a container or tiny home pre-fabricated, furnished and ready to move into off of Amazon…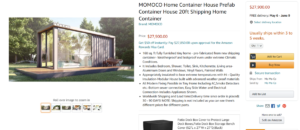 Shipping container homes are not the only way to go small, check out this article about the tiny home movement https://evstudio.com/the-tiny-home-movement-in-denver/
Not convinced this is the right avenue for you- check out examples of homes EV has designed at https://evstudio.com/architecture/residential/