We have been using the latest version of Bentley Projectwise Navigator on our Army Corps projects to do collaboration and clash detection.
In one of our early exercises we ran our Structural Model against our Architectural openings because we knew that some of the openings had shifted.
In this video, I have updated the model with a new version of the model where the clash is no longer present and I can then use the markup trail to show that the clash was fixed.
Here is a static picture of another clash that has not yet been fixed.  As you can see, the clash is readily apparent, you can also keep track of when it was found, and who it was assigned to and its status.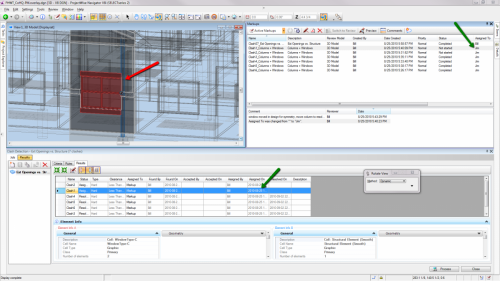 The software can be used with Bentley BIM, Revit, and any program that can save to a DWG so it is quite flexible and we look forward to using it on many more projects in the future.
This is another example of how using the latest tools like Bentley's Projectwise Navigator helps our designers and engineers solve problems more quickly and accurately giving them more time to focus on saving the client time and money.