EVstudio is very active in our Austin office as the multifamily boom continues to drive Austin construction starts. All of our projects start with one fundamental question: How much will this apartment project cost?
Our primary resource for construction cost estimating is RSMeans, along with data provided from the projects that we design in each locale. The current data, for a 1-3 story wood frame garden style apartment building with brick veneer is currently running between $110 and $125 per square foot in the greater Austin area. These costs include soft costs for Architecture and Engineering as well as Contractor fees such as overhead and profit. These costs do not include the cost of the property or the site improvements and infrastructure that may be required for the project. They also do not include any financing costs associated with the project.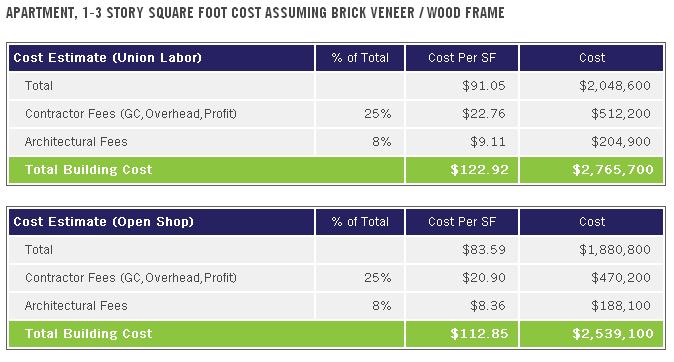 EVstudio has a multifamily design studio with the expertise to navigate your project to success. We can help you with initial feasibility, entitlements, and conceptual design all the way through full architecture and engineering for the project to get you permitted and constructed. Our team has worked on multifamily projects of all sizes and types from garden style to wrap and podium projects, including mixed use and other occupancy types.  Contact any of us at any time and we would be happy to discuss your next project!