EVstudio has been involved with a variety of medical spaces and similar types of construction. This post focuses on the construction costs per square foot for two different sizes of hospital facilities – based on number of stories.
The data for these charts is courtesy of RSMeans, the world leader in construction cost estimating
Among the two property categories set out in the charts below, it is most expensive to build a two-to-three-story hospital. The dollar-per-square-foot cost drops 12% for the next most expensive type of structure, a four-to-eight-story hospital.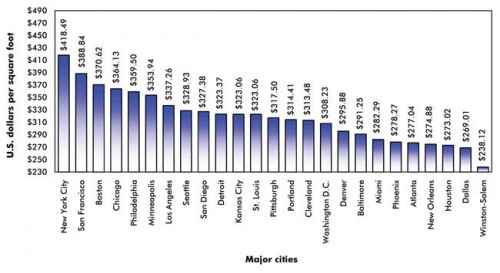 Not surprisingly, for both hospital sizes, New York ranks the highest for the region to build while cities in the South are among the lowest cost for construction. The median for a 2-3 story hospital falls around $320 per square foot while the median for a 4-8 story hospital falls around $280 per square foot.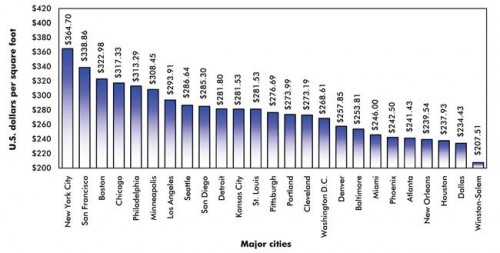 The economy of scale is evident in the taller structures, and this often drives decision making at the outset of a project. It is also important to note that facility management and operation costs are also less for taller hospitals than for fewer stories.
Every facility is different, however, and has a wide variety of specialties that set it apart from other buildings. For example, Some hospitals are well known for their technologically advanced resources while others may be more focused on long term care, pediatric or therapeutic care, which could have lower cost requirements for those facilities.
If your group is considering a new facility, or a renovation of an existing facility, we would be happy to discuss your project with you and help to outline a program for understanding the major impacts to your project budget, and ultimately assist in providing award winning architecture and engineering to realize your project.