Hospitality and multifamily design have many common factors and we have worked on many projects in both sectors. This post is specifically focused on the construction Cost per Square Foot for Hotels, Motels and Apartment Buildings across several regions in the United States.
So, how much does it cost to build a hotel, motel or apartment building by square foot? While this will depend heavily on the design of the building, and its location, there is some guidance based on data collected nationally and analyzed by RSMeans, the industry leader in construction cost estimating and analysis. Local economy is a very important factor in construction cost as well as the type of construction you intend to build. Note, that not all types of construction cost the same per square foot, and even more importantly, the cost of construction per square foot varies significantly with location.
Below are three different types of hospitality and multifamily construction and the varying cost per square foot to expect for each in different regions.  All graph images are courtesy of RSMeans Construction Cost Data. Data source: Reed Construction Data – RSMeans/Charts: Reed Construction Data – CanaData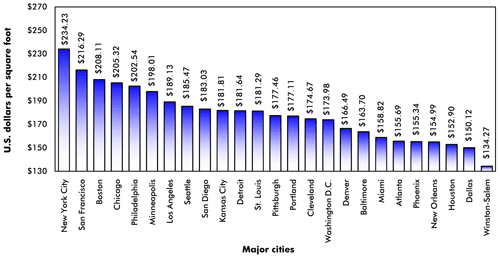 As you can see from the range of cost per square foot, location alone can represent as much as 70% of the cost driver for a 2-3 Story Motel. The median for this type of construction is between $170 and $180 per square foot. Not surprisingly, New York tops the charts for most expensive city to build in at over $234 per square foot. Winston-Salem consistently ranks as the most inexpensive city to build in at $134 per square foot for motels.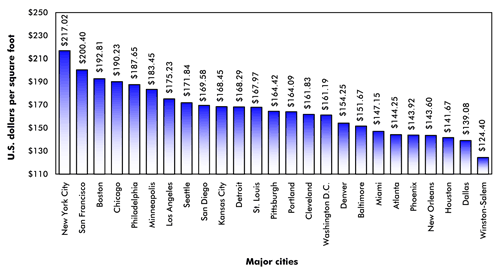 Building vertical always provides an economy of scale for larger structures, and that is noted with taller hotel construction. As these costs are spread out over greater square footage, we see a median cost in the mid $160 range with $217 on the high end and $124 on the low end.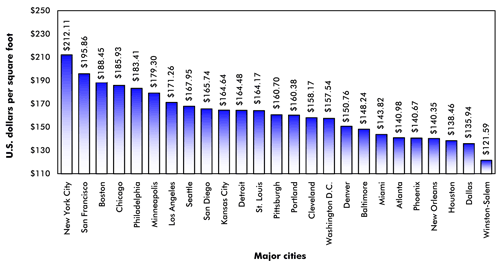 At the lowest end of the cost spectrum is the 4-7 story apartment building. Similar to the Hotels, taking advantage of the vertical construction, apartment buildings also are not required to have the variety of functions that are necessary in a hotel. While amenities will be very specific to projects, on average, apartment buildings median cost are in the low $160's per square foot with a range of $121 on the low end to $212 on the high end.
It is increasingly important to understand the cost drivers for any commercial project and how building type, construction type and location can all be huge variables that will drive your cost per square foot. These are always a part of the initial programming discussions and the Architect will play a huge role in helping to define the ranges of cost to expect for the project.