EVstudio has been involved in a significant number of multifamily projects, both for architectural design as well as engineering. All of these projects start with a pro forma and a fundamental question: How much does it cost to build a Multifamily Apartment building?
Because this is time sensitive data, we try to post as much information as we can on a regular basis in order to inform our clients' programs. This post is relevant for 2012 and the data below is excerpted courtesy of RSMeans, the industry leader in construction cost estimating. These costs are for the construction of the buildings themselves, and do not include land costs, soft costs, financing costs or FF&E costs.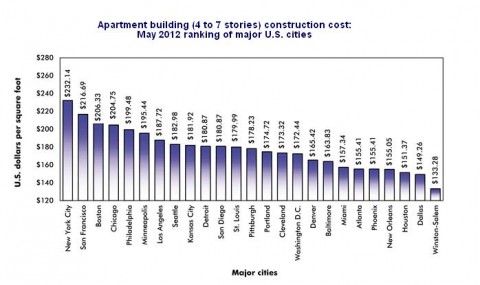 The Apartment buildings that we are studying in this post are 4-7 stories. Above is a chart, representing the construction cost per square foot for these projects, classified by region. Note, there are wide differences in cost depending on location, and New York City tops the chart at $232.14 per square foot while Winston-Salem is on the low end at $133.28 per square foot. The median falls around $178 per square foot.
It is important to note, however, that every project is unique, and index pricing cannot be relied upon solely for outlining your project budget. Many factors must be considered – not only geographic location. Building complexity, program, amenities and level of finish all serve to inform the estimated cost of the project and a qualified full service design firm like EVstudio can help design to your budget. If you would like to discuss your project, please don't hesitate to contact us and we can help you with any phase from entitlements to architecture and engineering to final punchlist.