Because of the overwhelming response from our post on the cost of commercial construction per square foot, I did some research on another project type that we frequently design: Educational facilities.  School boards and facility managers of educational institutions always want to know: How much does it cost to build a school? In an effort to come up with some analysis of the cost per square foot of educational facilities, we can use these resources to get an index for what to expect in general based on project location. Like any project, there is no quick answer and without more information about the project and its location. However, there is some guidance provided we know where you are located and what kind of building you are looking to build. Local economy is a very important factor in construction cost as well as the type of construction you intend to build. Note that in this case, the cost of construction per square foot varies significantly with location.
Below are four different types of educational construction and the varying cost per square foot to expect for each in different regions.  All graph images are courtesy of RSMeans Construction Cost Data. Data source: Reed Construction Data – RSMeans/Charts: Reed Construction Data – CanaData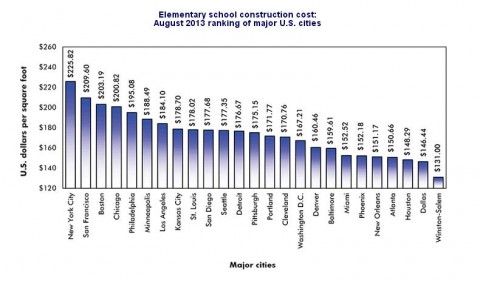 As you can see from the range of cost per square foot, location alone can represent as much as 70% of the cost driver for an elementary school. The median for this type of construction is between $160 and $170 per square foot. Not surprisingly, New York tops the charts for most expensive city to build in for all of these building types.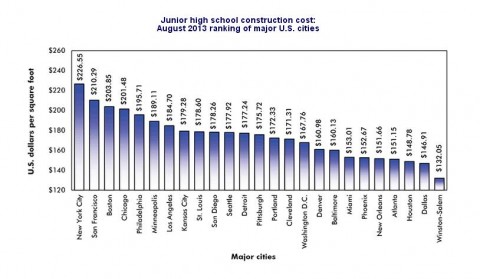 Junior High schools do not deviate much from the costs of elementary schools. Nor do High schools. This is primarily because building construction types and programmatic requirements which drive building efficiency are all very similar for all of these types of facilities.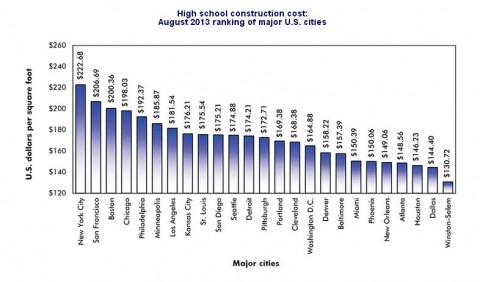 Unless you have a very specialized program which would drive the cost of a vocational school, the buildings are generally very similar to schools of other types. Thus, we see very little deviation from the cost per square foot for these facilities.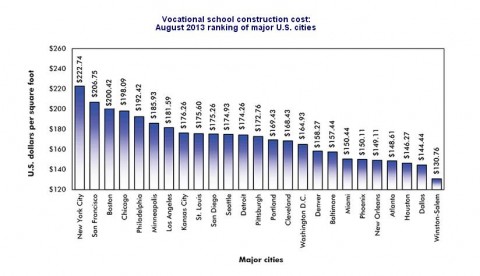 It is critical to understand the cost drivers for an educational facility and how building type, construction type and location can all be variables that will drive your cost per square foot.
In this case, location plays the largest role in cost per square foot. The similarities of building type and program lead to higher sensitivity to local labor and materials prices. These are always a part of the initial programming discussions and the Architect will play a huge role in helping to define the ranges of cost to expect for the project. To see more about all of the services that EVstudio provides for schools and other educational facilities, follow this link to
Schools
.