It's an inside joke among architects that stairs drawn for the permit office are usually heavily modified post-occupancy. How else could the below images pass muster against the myriad constraints presented in Chapter 10 of the International Building Code?
While the above stairs stretch the boundary between safety and novel design strategies, they clearly would not meet basic code requirements for handrail or guardrail much less the infamous 4″ sphere which must not be able to pass through the guardrail protection scheme.  Even the below pair of stairs, while couched in homey storage solutions or supporting Tuxedo the Cat would fail the test for lack of guardrail.
In an effort to deliver a stair design which matches the rest of an overall modern house design, many architects sometime turn to horizontal railings to break from the trappings of the traditional baluster made famous from the dawn of stair building.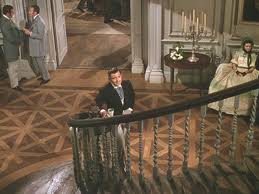 or worse, a modern interpretation Scarlett's home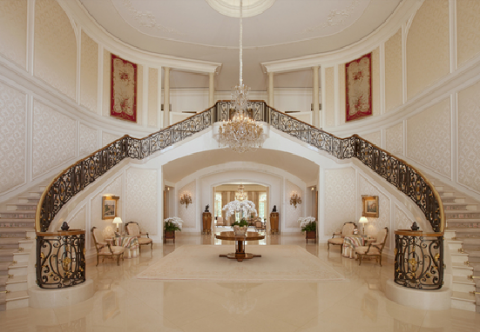 Horizontal railings, however, were at one time barred from use by a section of code which describes a "ladder effect" whereby someone could use the horizontal rungs of the railing as a means to climb up and over the railing and potentially fall.  Even though the code has since been modified, many architects still hold to the belief that horizontal rungs are to be avoided.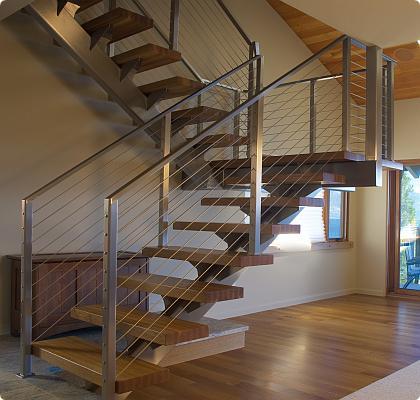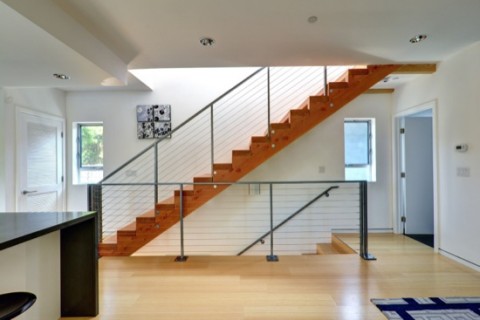 Yet, in a report published in 2008, the International Code Council confirmed that the 2001 removal of the ladder effect restriction should not be overturned and the decrease of emergency room visits from barring the ladder effect are statistically insignificant.  In addition, the report found the following common sense conclusions:
– "The human child is built to climb and loves to do so"
– "Children 4 years of age and older could climb any guard with a height of 42 inches or less – even solid walls"
– "Difficult barrier design merely present a greater challenge to the determined child"
So the next time someone says that they have been denied a permit for ladder effect violations, you might recommend they challenge the ruling based on the current language in the code against the plans reviewer's knowledge of what was once the law of the land.  Until then, happy drawing and happy climbing!