Located in Racine Wisconsin, one of Frank Lloyd Wright's buildings that pushed concrete technologies at the time is the Johnson Wax Building.  The Johnson Wax Headquarters were built from 1936 to 1939.  The Headquarters includes the Administration Building, and Tower built from 1944-1950.  In 1976 it was made a National Historic Landmark.
As with many building designed by Frank Lloyd Wright, this one is no different.  The Great Workroom, is a forest of concrete columns.  Pushing structural technologies, these columns are tapered from the bottom to the top, capped with 18 foot diameter disk at the top.  At the time, this design did not meet building codes.  In order to prove that these concrete reinforced columns were sound, the columns and disks were loaded with 60 tons of material.  At that time, there was a lot of controversy surrounding the design relating to the mushroom columns.   Mr. Wright demonstrated that this construction and loading test could support 5 times standard design loads and that he could get a building permit for this new technology.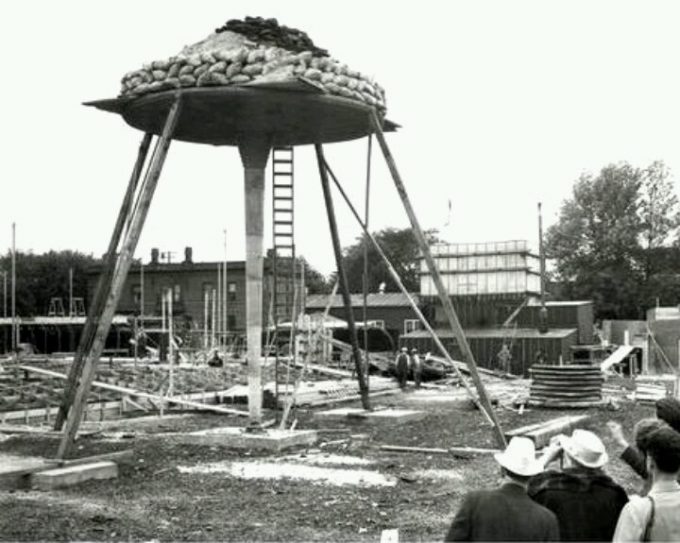 Another technology used in these buildings is the glass tubing used in the clerestories and roof.  Circular Pyrex glass tubing was stacked one next another to great glazing for the building.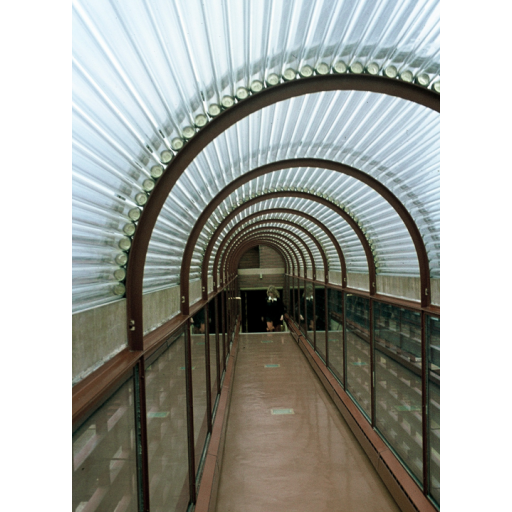 Unfortunately, areas in the building where the seals at these tubes failed were later replaced with waved glass.
For more information on the Johnson Wax Building and Tours, please see: