In a structural engineer's perfect world everything would fit in the field exactly like it was drawn on paper. In my 10 year career that has yet to happen. This is especially true for projects such as additions to residential or commercial buildings where we are not always privy to the exact geometrical attributes of the existing structure. Most owners do not want to wait for a contractor to rip into a building to discover all of its hidden "treasures" prior to the creation of construction drawings. For this reason engineers must make educated guesses as to the existing conditions of a building during the design phase of a project. Quite often, once demolition has begun, contractors will discover that framing members need to be modified to work within the real world constraints of the site.
First and foremost I would like to vigorously agree with the APA in that notching LVL beams should be avoided whenever possible. Engineers will specify LVL beams in situations where the developed stresses are greater than typical sawn lumber (for example: 2x4s, 2x10s, etc.) can handle. Notching of LVL beams not only decreased the effective section of the member in the location of notch but also creates stress concentrations in what is already a highly stressed beam. These stress concentrations make the beam prone to splitting. Because the forces in a loaded beam are not equally distributed, there are better places than others to cut your LVL beam. Below is an illustration from the APA document "EWS G535A" which gives guidelines to builders as to appropriate locations for notching: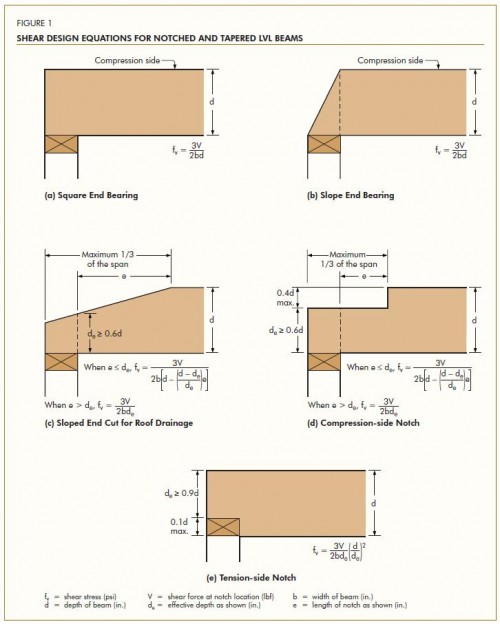 Consulting a structural engineer is always recommended before modifying any beam, but if you are the type to cut first and ask questions later (yes plumbers, I am talking to you too) this illustration is a great "rule of thumb" to go by. The EWS G535A is a free publication from the APA and certainly goes into much greater detail than presented here. The APA website is a great resource for builders, engineers, architects and home owners who are looking for information on manufactured lumber products.