I recently had the pleasure of attending an open house for Dave and Kara Schmitt.
In the fall of 2009 they completed an addition to their home in Evergreen. The existing residence was becoming small for their growing family and they needed more space and some exterior updates to liven it up.  As part of their desire to have a more energy efficient home, they replaced all the windows and brought in a new heating system. The addition consists of a new main level great room and master suite and the basement contains a very large family rumpus room and a new laundry and mechanical room. It was a pleasure to work with Dave and Kara on their addition project and it helped that they knew exactly what they wanted to do.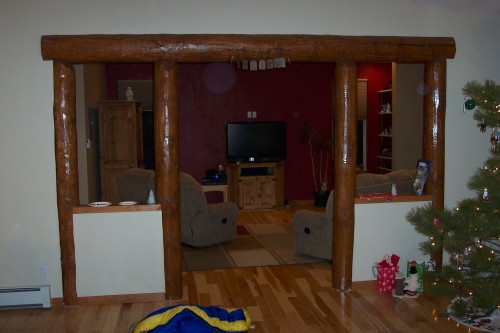 We designed the great room to speak toward the openness of the existing kitchen, living,  and dining room spaces but also separate it with the half wall, log posts and beam above. The location of the master suite behind the new great room provided a great way to separate their sleeping space from the other bedrooms and add more privacy, while leaving their existing bedroom available as a guest room or new child's bedroom. The existing basement contained a rec room and office combination that was just too small for both functions. Now the existing office area is closed off by a wall and door and the rec room area is completely open and connected to the new rumpus room. Dave plans on putting in a wet bar sometime in the future, for which we had anticipated locations for plumbing, outlets and light fixtures.
The Schmitt's are very pleased with the drawings we did for their addition and would be more than happy to provide recommendations to prospective clients on our behalf.