The built environment is something influential in the lives of most, yet perhaps taken for granted or not considered with the depth of other subjects. For example, Apple has done well to promote the thought put into their products, and consumer sentiment appears to reflect an appreciation in return. And how deeply do we consider the thought put into the structures within which we spent the majority of our lives? Those same structures, assembled by hand by skilled laborers with specialties in their trades, following plans developed by individuals with years of training, are often just spaces that we continually seek to improve, decorate, sometimes complain about, or that simply fade into the peripheral with our own noses.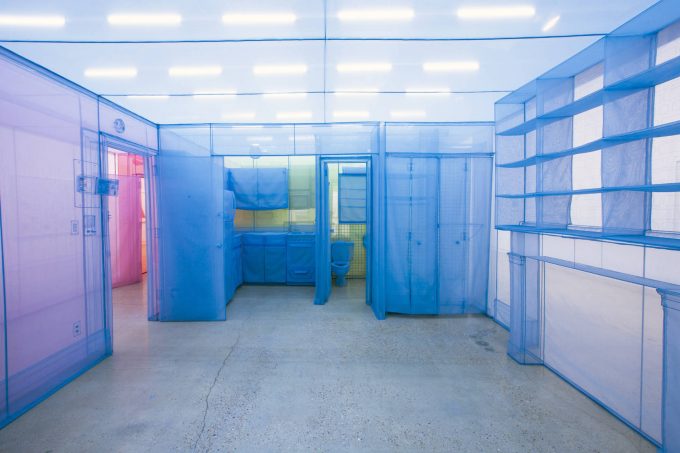 Recently, this writer had the fortune of stumbling across the work of Do-ho Suh, a sculpture who, amongst other projects, creates (or recreates) buildings using tapestry. And they're stunning. This work caught my eye initially for the translucent qualities of the walls, doors, and other building components. These qualities resembled renderings and 3-dimensional views used to design buildings and their systems, with which I am so familiar. While translucent computer-aided views are used for practical purposes – to detect collisions, see through walls, and aid in the constructability of floor plans, etc. – Do-ho Suh uses the translucency of fabric to highlight the structures that we often overlook. Seeing through building components transforms the building into something ethereal and unexpected; suddenly noticed, as one's nose becomes when it's painted blue.
Further, his buildings are constructed by hand, with each facet of every component stitched together. A doorknob may be represented by twenty four pieces of fabric sewn together to create a 3-dimensional fabric orb. Stair balusters, windows, framing, trim, and all of the mundane components that a building would be amiss without, but not necessarily noticed regularly, are something magical in his work. Aside from marveling at the time commitment the work must take to complete, one must also reflect on the subtleties of familiar structures, and gain a further appreciation for them.
Personally, Suh's work caused reflection on the environment in which I spent my childhood. I thought back to the newel at the bottom of my childhood stairs, the boned embroidery on my childhood sofa, the small gap in trim beneath the stained wood pantry in our kitchen, a crack in our linoleum floor, and the shapes in the texturing of the ceiling in my bedroom. One time, these nuances brought a sense of comforting familiarity. As an adult, similar nuances are generally unappreciated. Seeing Do-ho Suh's ethereal (re-)creations rekindled the memories of those childhood observations and elicited a sense of awe, not only for the time the artist must have spent constructing his fabric structures, but for the time spent by other humans in constructing all of the wonderful structures that surround us every day.