The methods we have used to produce architectural drawings have evolved greatly over the years, from hand drafting to CAD to BIM software. The large adoption of Revit as the main tool for creating architectural plans has drastically increased the efficiency of the industry. However, with the ease of using the software, many Architects have forgotten the coordination that we used to go through with every change that was made. It is very easy to become complacent when designing with Revit and simply make a change in one place and not check to see how that change has impacted the other views in the set. By having the coordination of our changes done for us, it takes some of the intentions out of designing. While Revit has revolutionized the way we are able to see our buildings and the efficiency in which we can produce our drawings, I believe it is important that we take a step back and remember the thoughtfulness that was put into each change and decision that we made when drafting by hand or in AutoCAD.
Recently, I have been working in both AutoCAD and Revit for different projects. It has been about three years since I last worked in AutoCAD for a full project, but it did not take long for the frustration of having to track all my changes through the entire set to kick in. However, this frustration caused me to slow down and check that the change that I was about to make was going to be the best solution to the problem because I really did not want to go back and change everything again. When I switched to Revit again, I found myself following that same thought process rather than trying it and undoing it if it did not achieve the desired goal. While Revit is great for experimentation, it has made it a lot easier to simply throw things together without precise thought or purpose. I believe that we can and do make concise choices while using Revit and it is definitely the tool to be using for our field, but we should slow down a little bit. We should make sure that when we make a change, we check the views that are influenced by this change and correct any issues that are caused at the moment rather than stumbling upon it later in the process. Taking this little bit of extra time will make our designs even more cohesive and effective.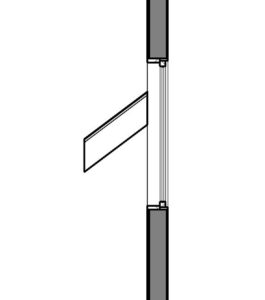 Something as simple as a roof intersecting with a window does not show up as a warning on Revit. Coordinating this can go unnoticed if the window is not in the center of attention on the project. This would be especially devastating if a roof clipped the bottom of an egress window and went unnoticed until CDs. You would have to redesign either the roof or the manner of egress at the late stages of a project. This could be easily prevented if you take the time to look through all the views that contain the roof or window after you draw it.