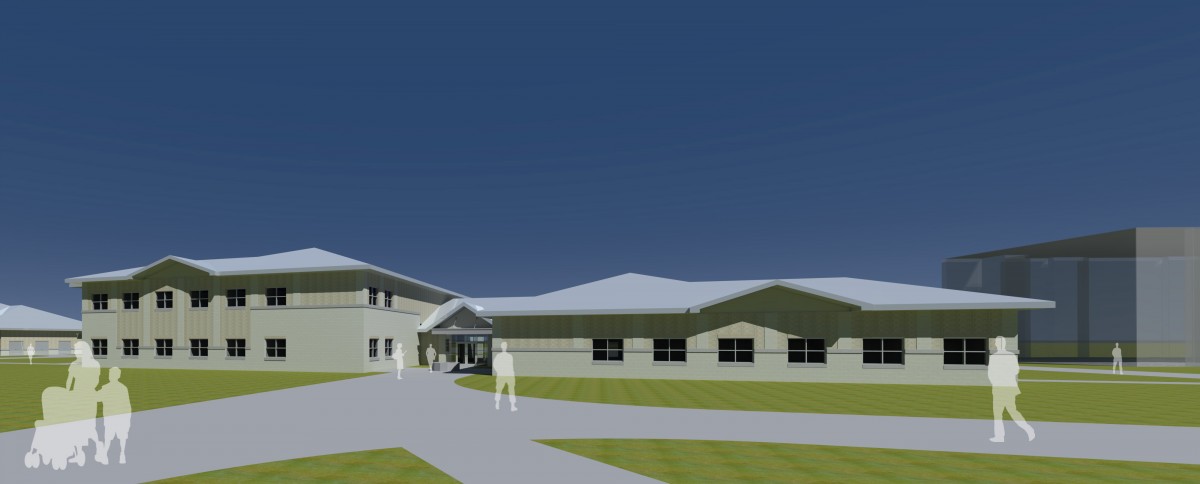 I wanted to show everyone our progress on the Ft. Hood projects with some progress renderings of our project at the 50% submittal stage.
I have done these in Bentley Architecture using Bentley's latest Luxology rendering engine.
What I particularly like about the Luxology rendering engine (other than having it built into the BIM modeling software)  is that I was able to produce fairly high quality lighting and material effects straight from our Bentley BIM model without spending time on tinkering with the settings.  I simply went in, touched up the material colors that were there, added in material assignments that hadn't been added and quickly placed the concrete, grass and other buildings onto the site for context.
I used Exterior Best/tweaked the lighting for my building/and used a preset sky gradient.
Context entourage was then added in Photoshop but this could also be done in Bentley Architecture / BIM.
Here is the other rendering of the Soldier Family Assistance Center.

Next steps in bringing this rendering up to the next level include increased vegetation, rendering the grass as fur, added detail to the site, added detail to the roof, and added sky detail.
Thanks for reading everyone!