In planning and site design, and usually under the scope of civil and geotechnical engineers, earth retention becomes an integral part of how our landscapes get formed. Both for our roads and highway systems and for our buildings with challenging site conditions. So whether it may be for large scale road and bridge projects, commercial projects or residential projects there are many different methods, techniques and systems for earth retention. One common method is a mechanically stabilized earth (MSE) wall.
Earth retention in general has been a part of our human history for thousands of years but modern applications such as MSE walls have only seen more wide use since the sixties and seventies. MSE walls basic technology consists of alternating layers of granular backfill or structural backfill and a reinforcing material. Depending on the manufacturer, the reinforcing material can be a steel wire mesh or grid, steel rods or geosynthetics like a geogrid or geotextiles. The reinforcing material is connected to the facing material and the weight of the layers of earth along with the reinforcement material work in concert to stabilize the ground and create the sharp change in ground elevation as a result. To take one example, see the photo below where a steel wire mesh was used to retain the earth for a driveway on this residential project. The facing on this wall is also wire mesh which allows the free flow of drainage from the above surface as water percolates down and out of the granular backfill. This application created a relatively cost effective solution that alleviated the need to wrap the potentially longer driveway further along the natural topography and thus preserve the native landscape.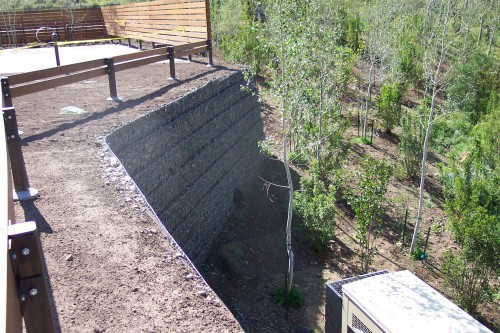 I developed this graphic below to further explain the basic design method behind an MSE wall. Each MSE wall system manufacture has their own proprietary materials and engineering specifications, but the design principals I put forth here in this cross section are diagrammatically very similar.