Last summer we complete the remodel of the main level of a residence hall for the University of Denver. Before the renovation the main floor was a sparsely populated space. Now the main floor is a hub of activity with students hanging out, studying and meeting with friends.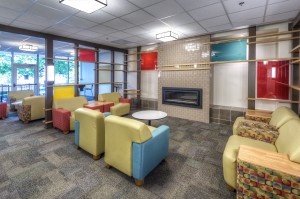 We color coded the elevator lobbies and stair entrances that students frequently used. This makes it much easier to tell a friend to look for a color rather than to go to the north or south elevator. We also worked with a local lighting company and developed a custom fixture with an outside corner.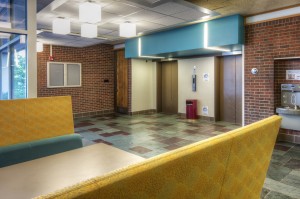 The main hallways are fifteen feet wide so we took some of that space and captured it for use as small study and hangout areas. These study areas accommodate from 4-6 students. The screens are made of tube steel, red oak and LED edge lit colored glass panels.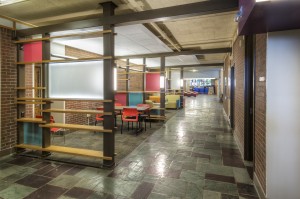 EVstudio and the University are very excited about how the project turned out. It can be difficult to renovate a 50 year old building and breathe new life into its' common spaces. Our great team of professionals rose to the challenge and created a space that students and University are both very excited about.